INTERVIEW - Vol.7 (Undergraduate Program)
What is first impression of Japan?
I'm from Henan province in China where is landlocked place, and I saw the sea for the first time in my life when I came to Japan in 2013. Until then, I had known about Japan only from drama or anime, so the first impression was exactly that the world in drama.
In addition, the sky is beautiful, many things are convenient, people in train are very quiet. However, there is also the impression that space is cramped. It may be different depending on the restaurant, but the restaurants in Japan serve ice water even in winter, I was surprised, was not accustomed to it at first, and felt cultural difference. Because restaurants in my hometown in China, they normally serve warm tea in winter, and water at normal temperature without ice in summer. In China, there is thought/habit drinking hot drinks even in summer, especially women because they tend to feel chilled.
How is college life at SIT?
I live in SIT global dormitory and made friends from all over the world. We cook home country dishes each other, eat and talk together, and I can learn different culture and discover new things.
As I am an International student, I take classes with Japanese students, however, I feel I'm treated as same as Japanese students equally. In student affairs section, there are staffs who are in charge of International students, are kind and warm.
I was invited by friends, to join a Halloween party which was organized by SISA
(Shibaura International'S Association) was held in GLC was really fun.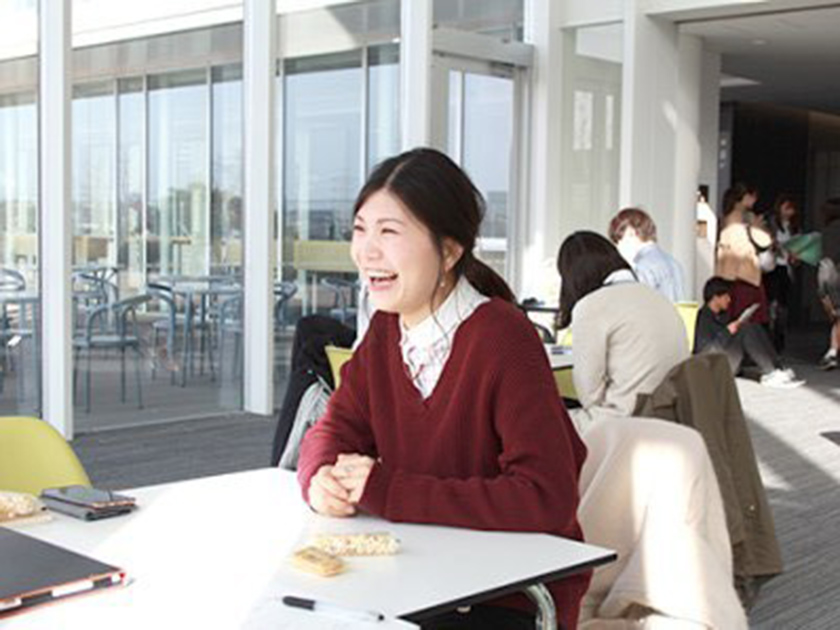 Why did you choose SIT?
I got to know SIT because I was introduced by a principal and a senior from a same Japanese language school. I chose SIT because that since I like biology, and SIT has Department of Bioscience and Engineering, and also, when I visited SIT before I take the exam, I felt SIT seems good. Although I was considering also other universities, I had good impression of SIT that the facilities are well equipped and campus is clean.
What is your goal in future?
I would like to get a job in Japan. And then, when my family comes to Japan, I would like to guide them well around Japan. Also, since I live in the dormitory with people from various countries, I think It would be nice that If I visit to various countries to contribute to international peace and experience various countries' cultures in future.
Would you give a message to the readers who are international students and high school students.

To prospective students for all over the world
SIT has the global dormitory where you can interact with students from various countries. In student affairs section, there are staffs who are in charge of International students so that the students may spend their school life without any worry. There are many events that are Halloween party and also Japanese traditional events such as rice-cake making, so I'd like to recommend SIT.

To Chinese prospective students
There is a Chinese restaurant around the nearest station of the university. And also, there are a lot of Chinese students so I think that you may be able to get advice from senior Chinese students.
ContactPlanning and Public Relations Section
3-9-14 Shibaura, Minato-ku, Tokyo 108-8548, Japan (2F Shibaura campus)