Course Taking Sandwich Program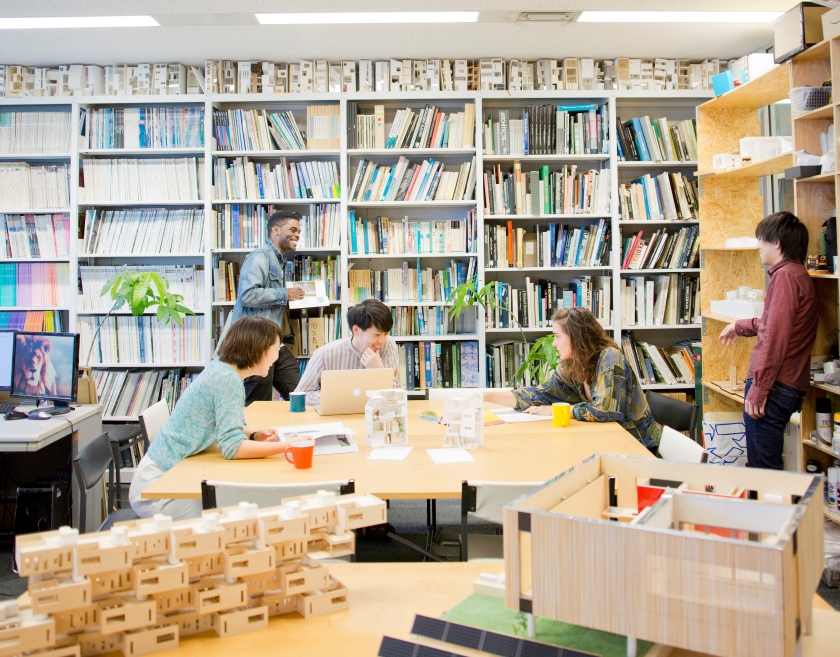 The Course-Taking Sandwich Program allows students to take courses at Shibaura Institute of Technology (SIT)
while they are the students of the home university for 1 or 2 semesters (up to 1 academic year).For example, the student may study for their first two years at their home university,study at SIT for the third year, and then return to home university to complete their studies at their home university.

OBJECTIVES
Acquire new knowledge taught in English.
Obtain new perspectives in the field of engineering at the cutting-edge facility in Tokyo.
Learn different cultures and perspectives in multi-cultural environments.

FEATURES
Hands-on learning in the capital of Japan, Tokyo.
Over 100 English-based courses
Wide range of study options in science and engineering fields (Mechanical, Materials, Chemistry, Computer Science, Electrical, Electronics to Architecture, Civil Engineering and System Engineering)
JPY40,000 per month scholarship opportunity (*Must pass the SIT scholarship screening.)
Open all
Requirements
The applicant must :
Be an undergraduate/graduate student of a university.
Complete this program at SIT and return to home university before graduation at his/her home university.
Have good English skills* (CEFR B2 equivalent or higher)
Be physically and mentally healthy. (Health checkup and health certificate is required before arrival)
Comply with the Japanese export control legal framework.
* CEFR B2 is equivalent to IELTS 5.5-6.5, TOEFL iBT 72-94, (These scores may change from time to time)
* Native English speakers and English-based degree students are not required to submit an English proficiency score.
* If the applicant hasn't taken the English proficiency test, his/her home university can issue a letter that substantiates the student's English proficiency.

Fees
SIT Partner University applicants:

• Application (Registration) fee: JPY30,000
• Admission fee: All Waived
• Tuition: All Waived
Non-Partner University applicants:

• Application (Registration) fee: JPY30,000
• Admission fee: JPY40,000
• Tuition (Course takers only): JPY15,000/credit
*Application (Registration) fee needs to be paid at the time of application (after August 2021).
Admission fees and tuition will be charged after starting the program.

How to apply?
First of all, decide your entry period (when to start and length of stay) and check the application submission period.
Then, please apply for the program during the application submission period.
In order to apply for the program, you must be nominated by your home university.
(Your university coordinator will also be asked to upload the nomination form to the online application system.)
| Entry Period | Application Acceptance Period | |
| --- | --- | --- |
| Spring Entry | October 1st - October 31st | End of March |
| Fall Entry | April 1st - May 8th | Middle of September |
Apply from the below link during the Application Acceptance Period.
For your reference:
For nominator:

Course Schedule and Modules
Course Schedule
The course schedule for AY2022 for exchange programs is available from the below button (AY2023 will be updated after 23rd March).


*Make sure that your browser's language settings are
NOT "Japanese"
.

[Tips] 
Look under "SIT Mobility Program Participants"
Check all the available courses by clicking "All courses" or choose by the department. You can take courses from any department.
Possible to take the courses from both the Undergraduate and Postgraduate levels if you meet the prerequisites of each course.
*You need to confirm the syllabus for each course.
Be aware of the campus that offers courses. Each campus is far from the other, so please consider the traveling time to each campus when you register for courses.
You can check the tentative teaching mode of courses from the Course Schedule above.


Course Registration Period

AY2023 Spring Semester

Registration Period
April 3rd ~ April 5th
Announcement of Lottery Results
April 8th
Course Modification Period
April 8th (from 12 pm) ~ April 17th
*

April 16th

Course Modification is unavailable due to the system maintenance
Semester start
April 10th

Course Modules

Several courses at Shibaura Institute of Technology are organized by field.
  Not all the courses are grouped in modules, but it may help you to look for the courses offered at SIT.

Program Length
Spring Semester: April 10(Mon), 2023 - July 26 (Wed), 2023
Fall Semester: Sep 23 (Sat), 2023 - Jan 23 (Tue), 2024


*Summer Break: July 27 (Thu), 2023 - Sept 22 (Fri), 2023
*Winter Break: Dec 24 (Sun), 2023 - Jan 8(Mon), 2024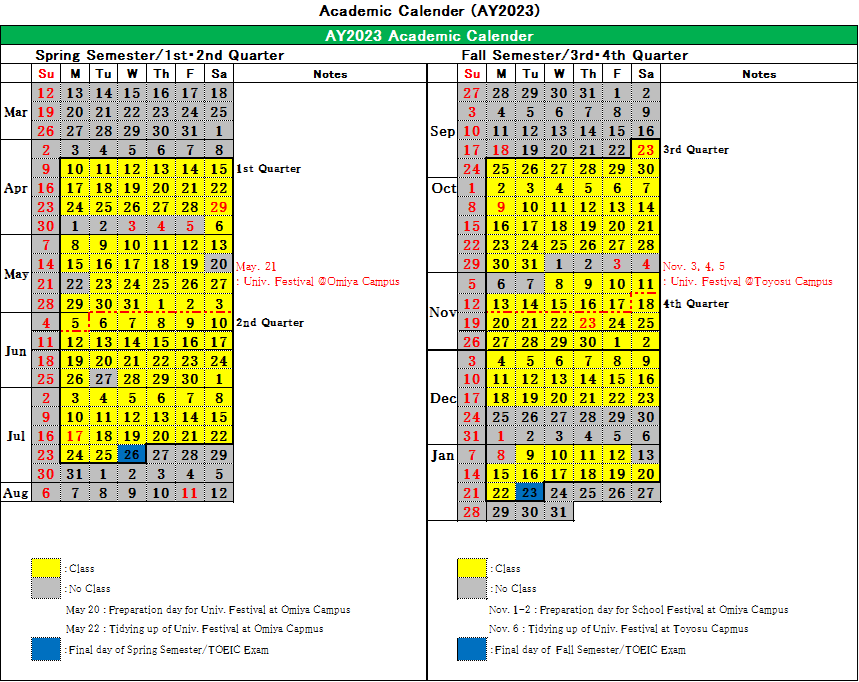 For more details (Frequently Asked Questions and Program Guidelines)
ContactDivision of Global Initiatives
3-7-5 Toyosu, Koto-ku, Tokyo 135-8548, Japan (4F the Centennial Main Building, Toyosu Campus)