Research Exchange Program/Laboratory Internship Program
What is Research Exchange Program?
The Research Exchange/Laboratory Internship Program gives participants opportunities to work on research under the supervision of a SIT professor.
The participants will be assigned to a laboratory-based on their research topic and the lab capacity of SIT professors. The research theme and content will be decided based on discussion between the host professor at SIT and the participant. Participants can pursue their research topics in a Japanese-style lab
and culturally diverse vibrant academic/research environment.
For undergraduate-level students, the program allows acquiring hands-on experience and practicing research skills from the early stage of higher education.
For graduate-level students, the program can be utilized as a part of the thesis work.
Program features and guidelines

Objectives:
- Deepen the knowledge of the field and area that you have already learned.
- Obtain new perspectives in the field of engineering at a cutting-edge facility in Tokyo.
- Learn different cultures and perspectives in multicultural environments.
Features:
-Join the laboratory and be supervised by a SIT professor in the field of students' interest.
-Over 250 laboratory choices from the science and engineering fields.
-Flexible program duration choice (min. 8 days - max. 1 year)
-JPY40,000 scholarship opportunity *Must pass the SIT scholarship screening
For further details, check our latest program guidelines
Requirement
The applicant must :
- be Bachelor 3rd year
*
or higher level who has basic/good knowledge to conduct research work independently.
- complete this program at SIT and return to home university before graduation from the home university.
- have good English skills* (CEFR B2 equivalent or higher)
- be physically and mentally healthy.
- comply with the Japanese export control legal framework.
*
When the applicant is third-year a university student at the start of the program, he/she is eligible to apply for our program.
* CEFR B2 is equivalent to IELTS 5.5-6.5, TOEFL iBT 72-94, (These scores may change from time to time)
* Native English speaker and English-based degree students are not required to submit English proficiency scores.
* If the applicant hasn't taken the English proficiency test, his/her home university can issue a letter that substantiates the student's English proficiency.
Fees
SIT Partner University applicants:
- Registration fee JPY30,000
- Admission fee:
All waived
- Tuition (Course takers only):
All waived
Non-Partner University applicants:
- Registration fee: JPY30,000
- Admission fee: JPY40,000
- Tuition (Course takers only): JPY15,000/credit
SIT Research Laboratory list
Nomination and Application procedure
First, decide your entry period (when to start and length of stay) and check the application submission period.
Please apply for the program during the application submission period.
In order to apply for the program, you must be nominated by your home university.
(Your university coordinator will be asked to upload the nomination form to the online application system too.)
| | | |
| --- | --- | --- |
| Entry Period | Application Acceptance Period | Program start month |
| 1st Entry | October 1 - October 31 | March, April |
| 2nd Entry | December 1 - December 31 | May, June |
| 3rd Entry | February 1 - February 28 | July, August |
| 4th Entry | April 1 - April 30th May 9th | September, October |
| 5th Entry | June 1 - June 30 | November, December |
| 6th Entry | August 1 - August 31 | January, February |
Materials and supplement information
※Nomination has to be submitted by university coordinator or supervisor.
Application form
In case you have any questions
Student Voices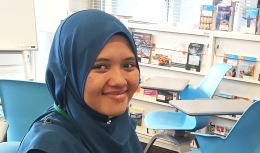 Solehah Jamilah Ismail (Malaysian)
Biomedical Engineering
Universiti Teknologi Malaysia
My research is about the recognition of body gestures for rehabilitation with a monitoring system. The purpose of my research is to replace the therapist role by monitoring the patient with the system during rehabilitation. SIT provides many facilities for the students and has advanced motion capturing systems that detect the 3D positions of human joints. Those systems help me in collecting data for my research. The research group here also has broad knowledge which is very valuable for me to further my research work. With the new study environment and culture here, I enjoy doing my research in SIT. I have learned a lot of new knowledge through discussion and lab work with professors and friends. I also have an opportunity to learn the Japanese language with new friends.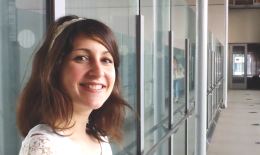 Anastasia Celli (Italian)
Architecture
University of L'Aquila
My major is related to the study of traditional architecture in Japan. My aim is to survey and investigate common dwellings in order to understand ancient methods and techniques of buildings and recovering them when it's possible. I already attended a workshop in Italy and in Tokyo with some students from Shibaura Institute of Technology(SIT) so at that time I got a possibility to know many students and some Professors from SIT and receive precious information about the school which made me do the good choice. Staff and professors are really quality people and they provided for me all the instruments and tools to study here in the best way. They cared about every aspect of my life and helped me in every situation.
ContactDivision of Global Initiatives
3-7-5 Toyosu, Koto-ku, Tokyo 135-8548, Japan (2F Classroom and Administration Building Toyosu campus)