IRMARIZA SHAFITRI CARALIN has received "Outstanding Student Award"The 88th Annual Meeting of the Society of Chemical Engineers
2023/03/31
【Awardee】
IRMARIZA SHAFITRI CARALIN (Department: APPLIED CHEMISTRY/GRADE: M2)

【Faculty supervisor】MIKIHIRO NOMURA

【Conference or Award Ceremony name (in full)】
The 88th Annual Meeting of the Society of Chemical Engineers, Japan

【Award】Outstanding Student Award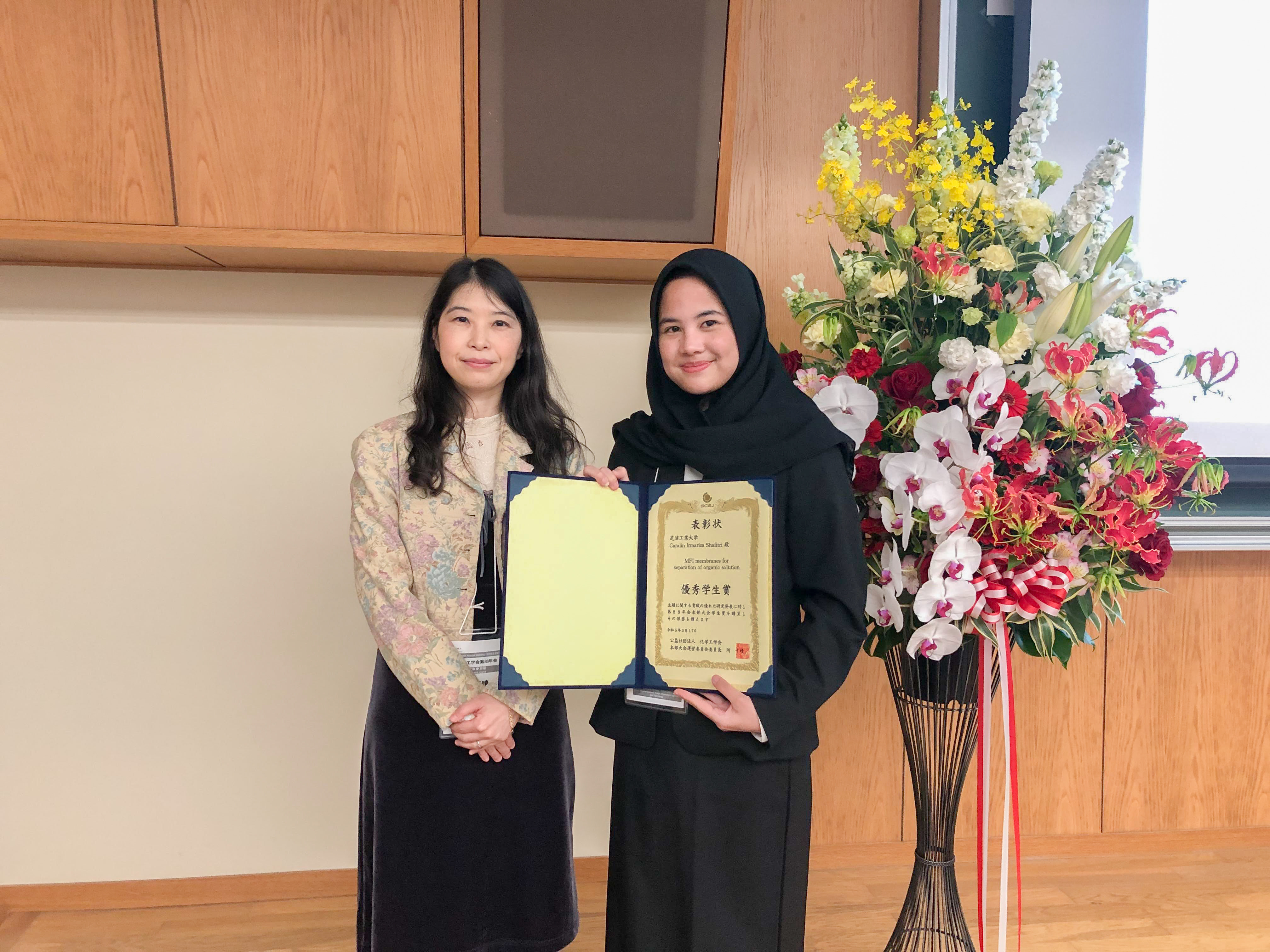 ■ purpose of the research
The recent development of membrane in reverse osmosis has been extensively explored by the effective separation. However, reverse osmosis membranes for organic solvent separation require further development. Thus, the development of hydrophobic zeolite membranes, such as MFI membranes, for organic solvent separation is very important. By considering the optimum conditions in preparing the membranes, MFI membranes were used to elucidate their organic solvent (methanol/toluene mixture) separation performances in this study.
The synthesis conditions that can affect the MFI membrane performances are substrate, seed crystal size, synthesis time, and silica/alumina ratio. After determining these optimum conditions, high methanol flux and separation factor can be achieved in the reverse osmosis and pervaporation system.
Hydrophobic MFI membranes have a great potential in organic solvent separation in order to promote sustainability in the petrochemical, pharmaceutical, and agrochemical industries.
Contact
Planning and Public Relations Section
3-7-5 Toyosu, Koto-ku, Tokyo 135-8548, Japan (2F the Centennial Main Building, Toyosu Campus)
TEL:+81-(0)3-5859-7070 / FAX:+81-(0)35859-7071
E-mail:koho@ow.shibaura-it.ac.jp