Best Oral Presentation Award at the SEATUC 2023 consortium
2023/03/03
Innovative Global Program
Roshan Parajuli, a Masters student in Miryala Lab, was awarded for his presentation titled "Boron Particle Size Reduction Via High-Power Ultra-sonication" at the SEATUC 2023 consortium held on February 22-23, 2023 at Suranaree University of Technology, Thailand. His presentation was recognized as the best oral presentation during the technical session, which earned him the award.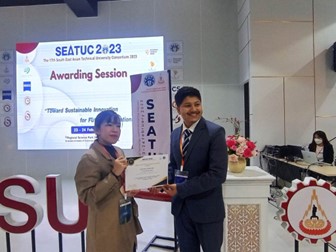 About Professor Muralidhar Miryala
Dr. Muralidhar Miryala is a Professor at the Graduate School of Science and Engineering and Board of Councilor at Shibaura Institute of Technology (SIT). He is an active researcher in solid state physics and material science with a focus on high temperature superconductivity. He has published over 500 research items including patents, books, review-articles, articles etc., He has received several awards for his research contributions, including the prestigious 2021 Pravasi Bharatiya Samman Award by the President of India.


Contact
Planning and Public Relations Section
3-7-5 Toyosu, Koto-ku, Tokyo 135-8548, Japan (2F the Centennial Main Building, Toyosu Campus)
TEL:+81-(0)3-5859-7070 / FAX:+81-(0)35859-7071
E-mail:koho@ow.shibaura-it.ac.jp